BIRTHDAY GIFT GUIDE: PERSONALISED GIFTS FOR YOUR PARTNER
The main question lingering in everyone's thoughts while purchasing a gift: Will my present be in the cycle of getting passed around and re-gifted? While it may be easy to give a bouquet, a box of chocolates, or a soft toy, it may not display sincerity and can often reflect a lack of effort.
With these things in mind, many feel stressed when faced with buying a birthday gift. The pressure of getting the perfect gift that pleases their partner weighs heavily upon them. Furthermore, presents are one of the primary ways of conveying love and appreciation to your significant other.
However, nothing better communicates your affection and gratitude than a heartfelt and personal customized gift. Besides, personalised presents can show the recipient that you remember precisely what he/she would cherish. Additionally, a one-of-a-kind gift expresses the careful consideration behind purchasing the gift.
If you have been racking your brains for a gift to purchase, read through this list of personalised gifts we have compiled!
Image credit: Oh Glorius Clay
For lovers of art and all things beautiful, Oh Glorious Clay has bespoke clay art coasters and trays! Oh Glorious Clay specializes in designing and handcrafting customizable polymer clay products. Charlotte, the founder and artist, carefully and lovingly crafts each intricate piece. She uses the stories of her customers to tailor each design to its recipients.
Incorporate art into your loved one's daily life with coasters and trays made of wood, resin, and polymer clay. Many customers use them to decorate their home, to hold jewelry, or to place drinks. You can personalize every element of the piece from the wooden base, clay feature, hand calligraphy, to the color of the dried flowers. Prices start at $50 for coasters and $60 for trays. Give your loved one a present that holds profound meaning and tells of your story together.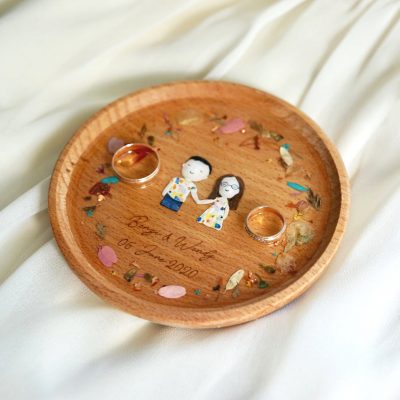 Image credit: Oh Glorius Clay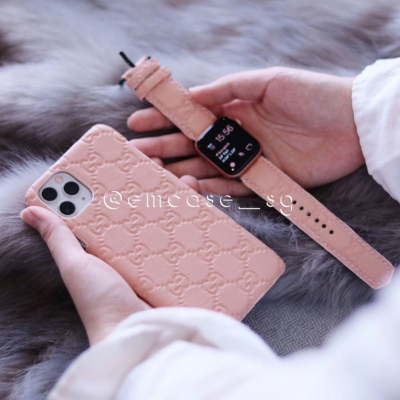 Does your significant other love luxury brands? You can now get him/her a phone case that matches their favorite bag! EmCase SG uses only 100% authentic pre-loved or brand-new designer bags to handcraft phone cases out of them. Furthermore, you will be spoilt for choice as they carry brands such as Louis Vuitton, Dior, Goyard, Gucci, etc.
Rest assured, all the bags used will go through a spa and clean before being cut. As all their products are handmade, you should factor in a manufacturing time of 3 days when ordering. Their prices range from $170 – $295, and they provide free shipping worldwide! These phone cases would be the utmost perfect gift for those who love a little opulence and indulgence in their life.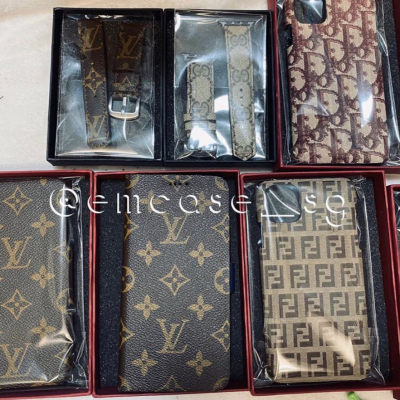 Cards are often kept for years and hold immense sentimental value. Instead of buying a generic, ordinary card from the stationery store, design your very own unique, personalized greeting card online! Fill your card with pictures of your favorite memories together and phrases of inside jokes! Priced affordably at $12.60 for a pack of 8 cards.
Shopzone by Ho Printing Pte Ltd also offers personalized notebooks with the option of designing the front cover, inside front cover, back cover, and inside back cover. Perfect for those with significant others who use notebooks daily, whether it is for journaling, writing notes at work, as a planner, etc. At $5.50 for one, this one-of-a-kind notebook is an excellent gift for your loved one.
Designing is quick and convenient with our free online designer tool. With the click of your mouse, add photos, text, and other design elements. We even provide over a dozen free templates for you to use.
Image credit: Lovingly Signed
Do you have a partner who loves soft toys? Present them this Jellycat Bashful Bunny with their (or even better, yours) name on it, and it will surely win their heart! The Jellycat Bunny is a classic soft toy with many loyal fans singing its praises. It is well known for its luxurious fabric that is exceptionally soft and silky to the touch.
Lovingly Signed allows you to personalize your Jellycat Bunny by adding a name of up to 7 characters. You can even choose the color of the thread and jumper! It will also come packaged in a beautiful gift box. It costs $78, including personalization. The personalized Jellycat Bashful Bunny is the ultimate gift for all who love cuddling!
Image credit: Lovingly Signed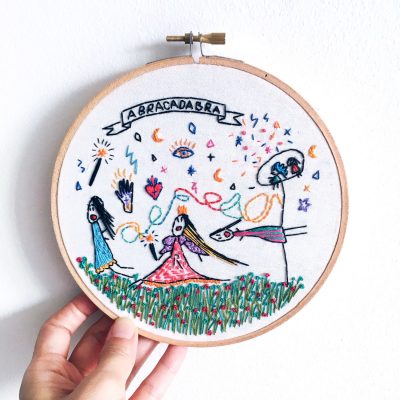 Image credit: Inez Designs
Capture the memories of you and your other half and immortalize them in the form of embroidered hoops! Inez Tan, the founder and embroidery artist, is recognized for turning her daughter's doodles into embroidered pieces. Her designs are whimsical and eccentric, with themes often revolving around magic, star constellations, and esoteric symbols. With precise stitches but an overflowing imagination, she passionately creates unique pieces.
Commission an embroidery hoop of your child's drawings or a family/pet portrait. A 6″ embroidery hoop starts at $150 for kid's doodles and from $200 onwards for family portraits. These handcrafted embroidered hoops would make any recipient happy with its great significance.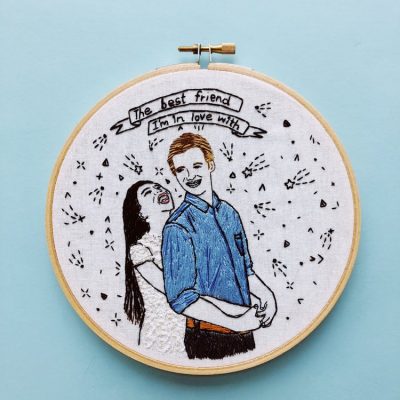 Image credit: Inez Designs
Everyone loves the minimalistic and simplistic aesthetic of MUJI. Gift your partner with his/her all-time favorite MUJI item! But, you can bring your gift to the next level with their custom embroidery services. Available only at Plaza Singapura, MUJI has a large assortment of over 200 embroidery designs that you can choose. Prove to your partner that you know him/her well by picking out a motif that they will love.
The simple process begins with picking a fabric product to embroider. Select from a wide array of options that include t-shirts, tote bags, etc. Then, personalize your item with letters and motifs. Spell out your partner's name or nickname to make it personal! Besides, you may pick the character's font and color. Prices start at $3 for a small design. A personalized MUJI gift would make your partner feel special!
As the saying goes, "It's the thought that counts." Recipients of gifts are not looking for the most expensive gift but the effort and significance behind it.